Aeo'Lai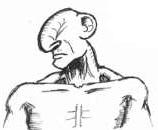 Being able to see is an alien concept to the Aeo'Lai. All four other senses are very sharp, and their sonar sense helps make up for a lack of sight. The concept of 'truth' is held in high esteem by the Aeo'Lai. Lying is almost as alien a concept as sight is. For this reason, an Aeo'Lai may seem rude and harsh to some races. They'll tell you what's on their mind as bluntly and honestly as they can. Aeo'Lai seem very defensive and paranoid at times, but also very loyal to a truthful ally.

Typical alignments
No trends

Age Range
| | |
| --- | --- |
| Hatchling | 0-3 |
| Adolescent | 4-10 |
| Adult | 11-50 |
| Middle Age | 51-95 |
| Old | 96-130 |
| Ancient | 131+ |
| Record | 277 |
Description
Hairless & eyeless. Nose and ears are larger. Skin is cold & clammy, in colors of dark browns or greens.
Typical names
Family names (Presented first): Parnak, Heembrok, Julenak, Tazka, Leldik
Male: Ja'Ox, Lam, Mi'Ag, Ra'Uf, Ojed, Heda
Female: Ju'Lox, Lami, Mee'Ag, Ree'Uf, Oojed, Hedee
Abilities
Amphibious. Resistance to cold. Sensitive to thermal changes. No sense of sight. Hearing, smell, touch and taste are all hyper-acute. Hearing ranges into the ultrasonic as well as infrasonic. Sonar. Short range stunning sonic attack.
| | | |
| --- | --- | --- |
| Attribute | Value | Min/Max |
| Mind | +1 | -4/+6 |
| Intelligence | +2 | -3/+7 |
| Wisdom | Ø | -5/+5 |
| Observation | +5 | Ø/+10 |
| Cool | +2 | -3/+7 |

| | | |
| --- | --- | --- |
| Attribute | Value | Min/Max |
| Body | Ø | -5/+5 |
| Strength | +1 | -4/+6 |
| Coordination | +2 | -3/+7 |
| Agility | Ø | -5/+5 |
| Presense | +2 | -3/+7 |

| | | |
| --- | --- | --- |
| Attribute | Value | Min/Max |
| Spirit | Ø | -5/+5 |
| Aura | +5 | Ø/+10 |
| Luck | +3 | -2/+8 |
| Intuition | +5 | Ø/+10 |
| Personality | Ø | -5/+5 |

Aeo'Lai heavy destroyer, 505', 20,900 tons
---